The Optimal Kitchen has a Wholesale License and offers a selection of core soups, salads and our grain-free, fruit sweetened muffins (no refined sugar).
We offer a variety of products available for purchase wholesale for re-sale retail  sales in your shop or eatery. (Even more products are available for direct retail purchase either from our commercial kitchen in Chatham or at some local farmer's markets.)  All our products are produced to the highest standards using fresh, quality, and when available, local and/or organic ingredients. Wholesale prices available upon request if you are interested in carrying Optimal Kitchen products.
THAI NOODLE SALAD
Retail: $5 per pint , $10 per quart
This favorite of the Optimal Kitchen has been in production, on and off for more than 20 years. A tradition durum wheat vermicelli noodles with fresh cabbage, peppers, scallion and cilantro tossed in a ginger sesame vinaigrette, this salad has a fresh Asian flavor that pairs beautifully  with everything from a Tofu cutlet to grilled fish, whatever your tastes and desires take you. Vegan
MOROCCAN KAMUT SALAD
Retail $6.50 8 oz
This salad's base is the ancient Israeli grain Kamut, similar to farro or spelt the big difference is the hull does not split so the grain retains a chewiness and nuttiness of flavor.  Combined with grated carrots, red pepper, red onion, raisins, chick peas and parsley all tossed together in a coriander and cumin vinaigrette, this salad is loaded with fiber and high in vegetable based protein making an ideal choice.  Great on its own or paired with whatever you like this salad has a great texture and flavor to enhance any meal. Vegan
BLACK BEAN CORN AND CABBAGE SALAD
Retail $6.00 8 oz.
This salad is a blend of organic corn, black beans, red and green cabbage all tossed in a lime, cilantro and cumin dressing.  The classic Latin flavors make this not just a delicious salad, but heated up it makes a great plant based taco filling.  The beans give it a solid protein load and the corn and cabbage bring lots if fiber and nutrients to the salad as well. Vegan and Gluten Free
WATERMELON GAZPACHO (Seasonal)
Retail $6 pint , $12 quart
A refreshing blend of watermelon and cucumber, flavored by red onion, cumin and lots of fresh lime makes this a summer favorite.  Naturally low in calories and rich in fiber and vitamins and the perfect antidote to dehydration makes this an ideal choice for just about everyone.  Vegan, Gluten Free, Paleo and Keto Friendly
ULTIMATE POWER BAR
Retail $3.50
A blend of gluten free oats, roasted peanuts, organic raisins and flax meal with a hint of garam masala and sweetened with a touch of  raw blue agave syrup.  Unlike many power bars this one is rather low in sugar and very high in protein, fiber and healthy fats.  These bars are ideal for distance runners and other endurance athletes who require real fuel for their workouts. Vegan and Gluten Free
SUSTAINED ENERGY BAR
Retail $3.50
A blend of gluten free oats, almonds, organic apricots, cage free eggs and a hint of cayenne and raw blue agave, these bars are designed with for those with blood sugar challenges.  The high fiber and protein balance with the lower calories to make this an ideal choice for someone looking for a healthy quick snack that will keep them full with usable energy for hours. Gluten Free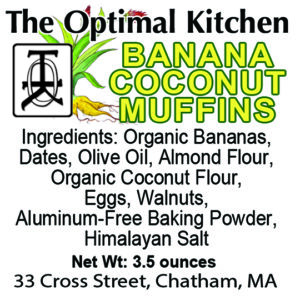 BANANA COCONUT MUFFINS
Retail $5.00-6.00
These muffins are grain free, dairy and refined sugar free making them paleo, keto and gluten free friendly.  They are a blend of coconut and almond flours, cage free eggs, walnuts, olive oil and are sweetened with only bananas and dates  As a result these muffins are dense and moist and are still incredibly sweet and delicious, even without added sugars. These muffins are a great option for those with limited options for baked goods due to dietary restrictions.  Gluten Free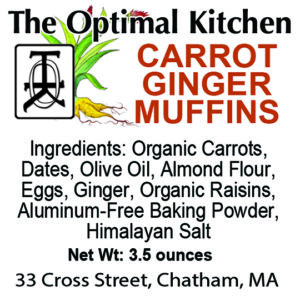 CARROT GINGER MUFFINS
Retail $5.00-6.00
These muffins are grain free, dairy and refined sugar free making them paleo, keto and gluten free friendly. They are a blend of coconut and almond flours, cage free eggs, olive oil and are sweetened only carrots and dried fruits.  As a result these muffins are dense and moist and are still incredibly sweet and delicious, even without added sugars. These muffins are a great option for those with limited options for baked goods due to dietary restrictions. Gluten Free