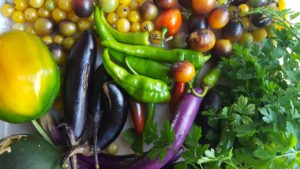 This past holiday weekend had lots of outdoor BBQ grills fired up and grilling everything from hot dogs to hamburgers to sausages and steaks.  It is the beginning of the grilling season and our grills are usually crowded with loads of meats, but there is so much more to grill and these choices will not help your health and the health of the planet.  This summer BBQ season why not break with tradition and instead of meats let those delicious summer vegetables take center stage.
Vegetables soak up those same delicious marinades the way meats do so if you have a favorite one don't throw it away.  Another bonus is the quick cooking time vegetables have on the grill so there is very little cook time, ideal for the hungry masses.  Even better, the novice griller need not worry about under-cooking  their foods and making someone sick because vegetables simply don't do that!
Lots of vegetables work on the grill but here is a list of some of my favorites that work great, be sure to always clean your grill before putting the veggies on so they don't stick.
1) Mushrooms (portobello, and shitake are my favorite)
2)Summer Squashes
3)Peppers (all varieties including hot)
4)Asparagus
5)Eggplant
6) Wedges of Radicchio or Bok Choy
7) Cauliflower Steaks
Even better here are some fantastic marinade recipes to help you take this vegetables to a whole new level.
GINGER SOY MARINADE

¼ cup Sesame oil
½ cup Canola Oil
¼ cup Rice wine vinegar
¼ cup Good quality soy sauce
¼ cup Honey
¼ cup Orange juice (optional)
2 tbs. freshly grated ginger
Juice of one lemon
3tbs. Toasted sesame seeds
1 tsp. Crushed red pepper
Combine all of the ingredients and whisk together
LEMON HERB MARINADE
Juice and zest from 2 lemons
2 tbs cider vinegar
1/3 cup olive oil
¼ cup fresh basil
¼ cup fresh parsley
¼ cup cilantro
2 garlic cloves
sea salt and pepper to taste
Combine the ingredients in a food processor or blender and slowly add oil while running to help it emulsify
.
CILANTRO MARINADE
½ cup Fresh Cilantro
¼ cup fresh lime juice
Few cloves of garlic
Hot sauce to taste
2/3 cup Olive Oil
Salt and Pepper to taste
Place first 4 ingredients in blender, while blending slowly add olive oil so that marinade emulsified

will keep tightly sealed in refrigerator for up to a week

Make a smoked chili variation on this recipe by adding 1 or 2 chipoltes in adobo, perfect for corn and bean salads

So make the shift this year and embrace those grilled veggies!!!!!