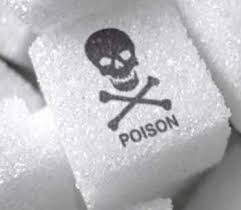 So I am sure no one wants to talk sugar the day before Halloween, but since tomorrow is quite possibly the day Americans consume the most sugar of any day I though it rather timely.   Sugar comes in all sorts of forms and types, white sugar, brown sugar, raw sugar, evaporated cane juice, brown rice syrup, and loads of scientific names all of which end in OSE.  This is important to remember , anytime you see a word such as maltose, sucrose, fructose, lactose, fructose it means sugar, sometimes a single bond, sometimes a double it doesn't really matter because WE ALL EAT TOO MUCH SUGAR.
If you have ever participated in an Optimal Kitchen cooking class you know that I blame much of our over consumption of sugar on the fat phobic trends of the 1980's and 90's.  There is simply too much sugar sugar lurking in processed and packaged foods and don't get me started on the beverages.  Many will argue that they only eat natural sugar, sugar cane is natural and large amounts of honey and maple syrup are  damaging to our system as well though not as badly and at least these 2 bring some additional health benefits.  We know that sugar causes diabetes and metabolic syndrome by overtaxing  the pancreas, but it is also damaging to many other bodily systems.  Sugar feeds malignant cells causing those cells to proliferate.  Sugar weakens our immune systems making us vulnerable to viral and bacterial infections and sugar consumption leads to weight gain which has its own set of health problems.
I could go into details about what exactly those sugar molecules do tour system and talk about double versus single bonded sugar molecules and how they affect us but  I don't view that information helpful to the lay person just trying to feed them selves better.  What is important to know about sugars is that the simpler or more refined form we consume the sugar in the more quickly it hits our systems requiring an immediate output of insulin to cope with the surge.  This is why the sugar in whole fruits, though  abundant, hits us differently with all the natural fiber and water to help slow down the process.
SO HERE ARE THE HALLOWEEN TIPS FOR SURVIVING SUGAR OVERLOAD:
1)EAT A PROTEIN RICH MEAL OR SNACK BEFORE HEADING OUT TRICK OR TREATING
2)AIM TO EAT LOADS OF FIBER RICH FOODS ALL DAY TOMORROW , FRUITS, VEGETABLES, WHOLE GRAINS, NUTS AND SEEDS
3) MAKE A PLAN FOR WHAT YOU ARE DOING WITH ALL THAT CANDY, the amount your kids come home with might be enough candy for the whole year  so decide ahead of time how you will handle this
4) BE SURE TO FIND A WALKING ROUTE FOR YOUR TRICK OR TREATING SINCE THE BEST WAY TO REDUCE EXCESS BLOOD SUGAR IN THE SYSTEM IS THROUGH WALKING
HAPPY HALLOWEEN EVERYONE!!!!!!!!!