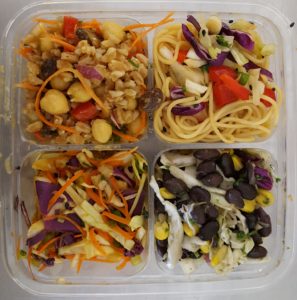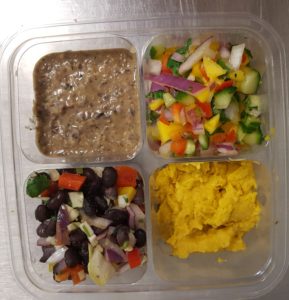 For those of you who are still not familiar with what we do at the Optimal Kitchen this is for you.  Every Wednesday I am at the Wellfleet Farmer's Market and on Saturday,  I am at the Orleans Farmer's Market.  At each market we sell a variety of healthy prepared foods.  If your  excuse for not eating well is that it takes to much effort to cook or is too expensive, the Optimal Kitchen takes away all those barriers.  Each market we have a stock of healthy salads, soups, salsas and snacks.  Almost all items are vegan, many are gluten free and there are even several paleo options as well.  
Our favorite new item is our TOK samplers.  These samplers let you try 4 different items from the Optimal Kitchen, making it a perfect way to sample all we have to offer. Each market features a salad sampler as well as a gluten free option.  These are perfect lunches and keeping a stock of them on hand will go a long way towards helping you stay on track with healthy eating all week long.  The food from the Optimal Kitchen is always extremely fresh so items will stay good in your fridge for the week.
So get rid of those excuses, healthy eating can be easy and affordable thanks to the Optimal Kitchen so come down and see us  and learn how we can help.
GOOD HEALTH STARTS WITH GOOD FOOD